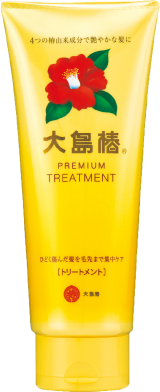 Special hair care with camellia oil and three camellia-derived components
OSHIMA TSUBAKI
Premium Treatment
Gives you special hair care that repairs damaged hair
This is a treatment agent for the special care of particularly damaged hair. It repairs hair from the inside of each strand. It is blended with camellia oil and three camellia-derived components (camellia ceramide, camellia flower extract and camellia leaf extract). The essence of camellia is used to make damaged hair manageable, bringing about strong yet supple, moisturized and lustrous hair. Its delicate fragrance is inspired by camellia blossoms.
Camellia oil

(moisturizing, softening and protective agent)
blended

Camellia ceramide

(repairing agent)
blended

Camellia flower extract

(moisturizing agent) blended

Camellia leaf extract

(moisturizing agent) blended
Characteristics

Use on Hair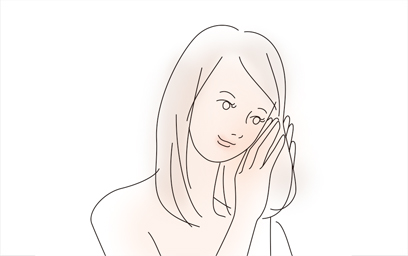 How to Use

Take an appropriate amount of treatment in your hand after shampooing. Apply it thoroughly and blend well, then rinse off.The treatment will be even more effective if you let it sit in your hair for about 5 minutes. Recommended for use about once weekly.