Moisturizing mist containing camellia oil
OSHIMA TSUBAKI Hair Water
One spray gives you lustrous and silky tangle-free hair.
A mist that's quick and easy to use—ideal for busy mornings. Moisturizes dry, rough or frizzy hair, giving it a silky finish. Camellia ceramide permeates each strand of hair and repairs damaged hair from within, while camellia oil coats the surface. Protects hair against damage caused by the heat of blow dryers and exposure to ultraviolet rays (UVB). At the same time, it provides hair with necessary moisture, making it easy to manage. Comes with a lock mechanism that allows you to take the bottle along with you wherever you go without worry of spillage.
Camellia oil

(moisturizing, softening and protective agent)
blended

Camellia ceramide

(repairing agent)
blended
Characteristics

Use on Hair
As blow dry spray
for a silky, tangle-free finish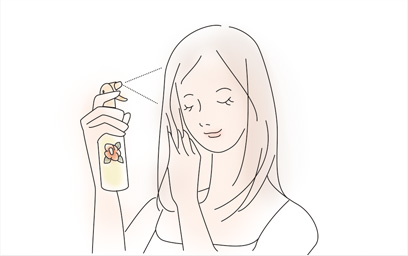 How to Use

Spray a generous amount on

towel-dried

or

dry hair

until all the hair is moistened.Finger-comb or brush your hair, then blow- or air-dry.Before you use the hair water for the first time, turn the white lock mechanism to the right and squeeze the trigger several times until a mist is sprayed from the nozzle.