Spray-on type OSHIMA TSUBAKI
OSHIMA TSUBAKI Hair Spray
A quick way to make your hair silky, tangle-free and lustrous
The multi-purpose, 100% camellia oil is available as a n easy-to-use spray. You can spray OSHIMA TSUBAKI camellia oil on your hair with one easy push of the spray button. It protects hair against damage caused by the heat of blow dryers and exposure to ultraviolet rays (UVB). At the same time, it maintains necessary moisture in your hair. The oil makes each strand of hair silky smooth for a beautiful, lustrous finish.
100% Camellia oil

(moisturizing, softening and protective agent)

*LPG is used as the spray propellant.
Characteristics

Use on Hair
As styling agent for
a silky and lustrous finish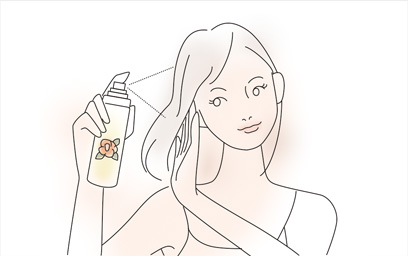 How to Use

After blow-drying your hair,

spray the camellia oil lightly on your hair from about 20 cm away.An even more lustrous, silky finish can be achieved by finger-combing your hair afterward.The oil adds a perfect finishing touch to blow-styled hair.
As a treatment agent
for damaged hair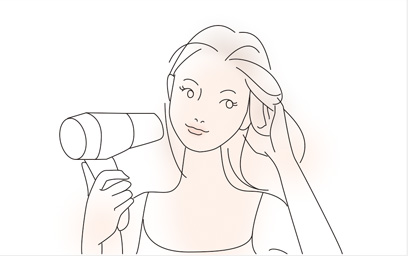 How to Use

After towel-drying your hair, spray lightly on hair

while your hair is still wet.

Blow-drying your hair afterward will protect the hair surface and give your hair a firm yet weightless bounce.Just drying your hair as usual will result in bouncy and lustrous hair.
As a styling agent for soft curls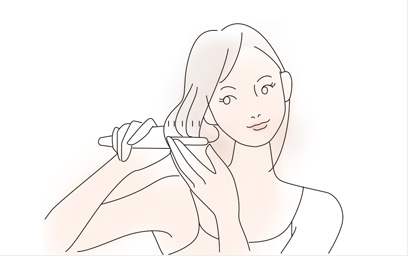 How to Use

Spray lightly on dry hair

before styling with a curling iron.

Curling your hair after spraying-on the camellia oil will help hold airy, lustrous curls without hardening your hair. Your hair will feel bouncier in movement.